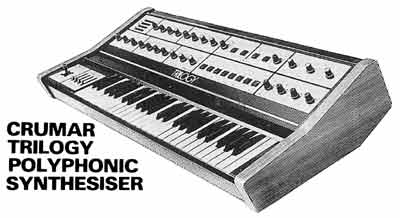 The Trilogy is the bigger brother of the Stratus and is a two oscillator "divider" type "Multi-Keyboard" with polysynth, four footage organ and string sections. The tone generation as with the Stratus, is totally polyphonic, however there are only six VCF / EG / VCA boards (Curtis Electro Music CEM3320 VCF, CEM3310 EG, CEM3330 Dual VCA) , so these are allocated certain groups of keys.
Transcription from advert appearing in 1983:
"Crumar's Trilogy combines polyphonic synthesiser, strings and organ sounds in one instrument, then lets you combine them in any proportion for limitless creative potential. Usually we do not think one single instrument should do everything or be everything to the professional musician, but with the TRILOGY natural events 'led' us to betraying this ideal. Accordingly, Crumar have created the most complete polyphonic synthesiser the musician would wish to have. Big, fat, aggressive, todays sounds combined with some unique features such as alternating waveform keyboard, trigger and invertible envelopes in polyphonic format. Add to these a comprehensive, easy to use bank of programmable presets (which may be altered to your own taste), together with two super string sections, and an organ section, and you have all the ingredients to make the TRILOGY live up to our highest expectations. "